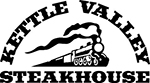 Nestled into the Happy Valley Day Lodge at the bottom of The Lara's Gondola, The Kettle Valley Steakhouse is an upscale oasis for fine hospitality, great steaks and an extensive Okanagan wine list.
A great Steakhouse starts with its beef. Here at The Kettle Valley Steakhouse, the home of the 50oz Tomahawk, we're committed to featuring only the very best Canadian, All Natural, Certified Angus Beef that has been aged for a minimum of 28 days.
In addition to our succulent steaks, the seafood we feature on our menu is organic, sustainable and unforgettable. We're dedicated to the sustainability of our oceans, partnering with Ocean Wise we guarantee that our seafood is not only responsibly sourced but also of the highest of quality and freshness.
A natural match to our classic menu is our Okanagan-centric wine list. Focusing on local varietals that are proving to be world class champions such as award winning Pinot Noir and Syrah.  Here in the Okanagan, we are fortunate to have a burgeoning wine industry with an ever increasing supply of remarkable wines that showcase the unique terroir of the Okanagan Valley.
Reservations for large or small groups are always recommended. ​ Families encouraged, kids welcome.
| | |
| --- | --- |
| Kettle Valley Steakhouse Full Menu | |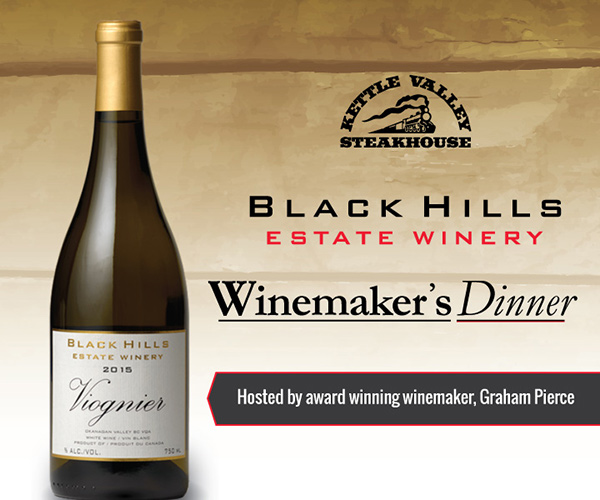 Reservations by phone at 250.491.0130.
Credit card required. $99/per person.
March 23 6:30pm - 9:00pm
Come and enjoy an evening of culinary mastery paired with the world famous Black Hills Estate Winery. Learn about the wines producing from the unique terrior of the South Okanagan and the Black Sage Bench. 
*Please note, the restaurant will be closed for regular business during this event*
What's on the Menu? 
Chefs Canapés / Seasonal Inspired - 2015 Viognier 
1st: Medley Organic's Sunchoke Roasted Apple Veloute / Sawmill Bay Scallop / Berkshire Bacon / Corn / Aerated Citrus Cream - 2015 Chardonnay
2nd: Charred Rangeland Elk Ribeye / Warm Local Beetroot Salad / Horseradish Crème Fraiche / Beet Gel / Beet Powder / Pistachio - 2014 Syrah
3rd: Slow Cooked Heritage Lamb Loin / Braised Cheek / Pressed Potato / Foraged & Cultivated Mushrooms / Raisin Gastrique / Nota Bene Blackberry Lamb Reduction - 2014 Nota Bene
4th: Blackwell Farms Buttermilk Steamed Pudding / Poached Pear / Honey Ricotta Semifreddo / Sponge Toffee / White Chocolate / Lemon Caramel - 2015 Alias
---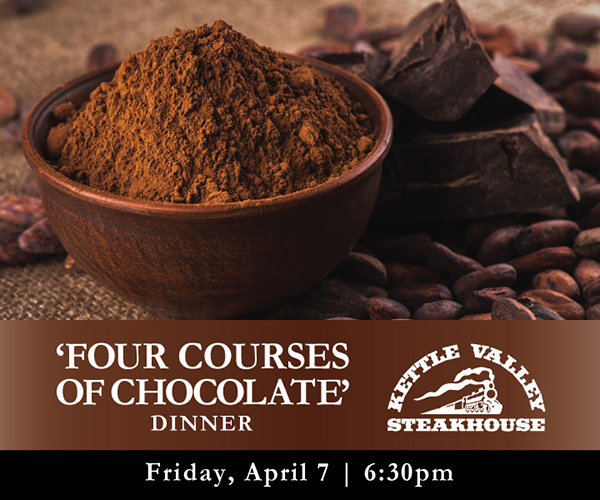 Reservations by phone at 250.491.0130.
Credit card required. $75/per person (plus GST and Gratuity).
April 7th, 6:30pm - 8:30pm
Join us for a wine paired dinner featuring the collaboration of Big White Executive Chef, Rob Walker and the culinary wizardry of Chef Danny Capadouca, Pastry Arts Instructor at Okanagan College and their creative inclusion of chocolate in every dish, both savory and sweet.
Experience truly masterful flavor and textural combinations when these experts use chocolate in ways that defy the ordinary. Each course paired with local Okanagan wine, this dinner is not to be missed.
Reserve your spot for this exclusive evening.  Seating is limited.
Harvest Table Menus
The experience of dining in larger groups has been elevated in the Steakhouse by the addition of a Harvest Table made of 100 year old reclaimed fir and able to comfortably seat up to 22 guests.  Harvest Table dinners are served family style and highlight locally sourced Farm to Table items.
Hours: Open daily from 5:00pm until late
Please call 250.491.0130 for reservations, or reserve online:
×