10 reasons to visit Kelowna instead of Niagara for your bachelor party | Daily Hive Toronto
Posted On: July 29, 2017 |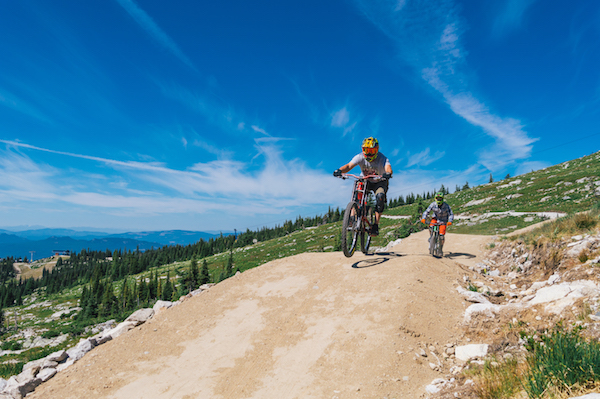 If you're looking for a guys getaway that's different from the others - try the Okanagan. The Daily Hive Toronto dishes on why Kelowna is the ideal destination for your next boys trip.
Boys, listen up! If you're wondering where to travel for your next bachelor party or boys trip, book your flights to the Okanagan. With more daily flights to Kelowna by WestJet beginning Fall 2017, and Kelowna's newest mountain bike park, Bike Big White, open Summer 2017- Kelowna is now the ultimate getaway destination for bachelor parties.
This week, WestJest announced in a media release that it will be adding more daily flights to Kelowna from Calgary, Edmonton, and Toronto as of November 2017. More connectivity means more opportunities to fly out west and enjoy the laid-back B.C. culture and unbeatable outdoor recreation Western Canada is known for. Flights = sorted. 
Once those tickets are booked, bring the boys out for a rip in Big White Ski Resort's new lift-assisted downhill mountain bike park Bike Big White. Opening August 4, 2017, Bike Big White will be the Okanagan's newest downhill mountain bike park that speaks to the soul of mountain biking, with trails and services that are built, staffed, and provided by riders for other riders. Located less than 60km (or a 45-minute drive) from Kelowna International Airport (YLW) this outdoor adventure is easily accessible from the city meaning you can ride all day and still make it down to a patio on the lake for late afternoon drinks.
Have we convinced you yet?
Continue reading the full blog post "10 reasons to visit Kelowna instead of Niagara for your bachelor party" by the Daily Hive Toronto.
To see more photos, videos, and news updates from Bike Big White, follow the park on Facebook, Instagram, and Twitter or visit bikebigwhite.com.